I made a 2011 calendar. For everybody. For FREE!
12/22/2010 07:08:00 PM
Yep, you read it right. I made a printable calendar for everyone! I initially was making this calendar / monthly planner for myself, but it's Christmas so why not share? :)

It's for a standard letter size paper (8.5x11), with space to write in your to-do's, birthdays, or any reminder for the day (admit it, we all forget something!). I made each month special with it's own background, color scheme, and even a different font! Okay I'm already starting to sound like a salesman, let's get to the point.

To receive this calendar (hi-resolution for prints) straight to your inbox, just....
Follow this blog (through google connect on the sidebar)
If you have facebook, please "like" my page too (can be found on the sidebar)
This is not mandatory but I'd totally appreciate it if you include SWITCHEROOm in your link list :)
Comment on this post stating whatever you did of the three. If you're email ad is in your profile, I'll just send it there. If not, please include your email in the comment.
That's it! I hope you'll love it as much as I do. Can't wait to doodle on this one.
Special thanks to
Pattern Cooler
for all the backgrounds I used. Check them out, there's a LOT of pretty pattern for you.
Share the gift too.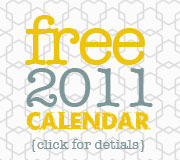 Merry Christmas Everyone! :)
BTW, if anyone had printed it already, I would love to see the calendar in the works! Email me pics at switcheroom@gmail.com
Thanks!
Please double check if your email ad is in your profile, if not, indicate it in the comment (together with whatever you did -follow, like, link)
I usually email out the calendar within 48 hours of comment received. If you did not get your calendar, I may have missed your comment (sorry!) or I can't find your email address. Please comeback and let me know! Thanks! :)
*****************************